Location
The conference and all workshops will take place from Monday June 20th to Saturday June 25th at the LS2N laboratory on Nantes University Campus. It is reachable in 10min from the city center using the Tramway Line 2 to Orvault – Grand Val, stopping at Michelet-Sciences (see https://www.tan.fr/ for schedule), by bus, bike, or even simply by walking along the Erdre, going by L'Île de Versailles below.
The main train station is in front of the Jardin des Plantes (well worth a visit!), on Tramway Line 1. Shuttles from the Nantes airport go by the train station (Gare Sud) and stop at the Hôtel Dieu station in the city center.  Hotel Dieu is a big hospital, and a stone's throw from the Commerce station, hub of the tramway lines.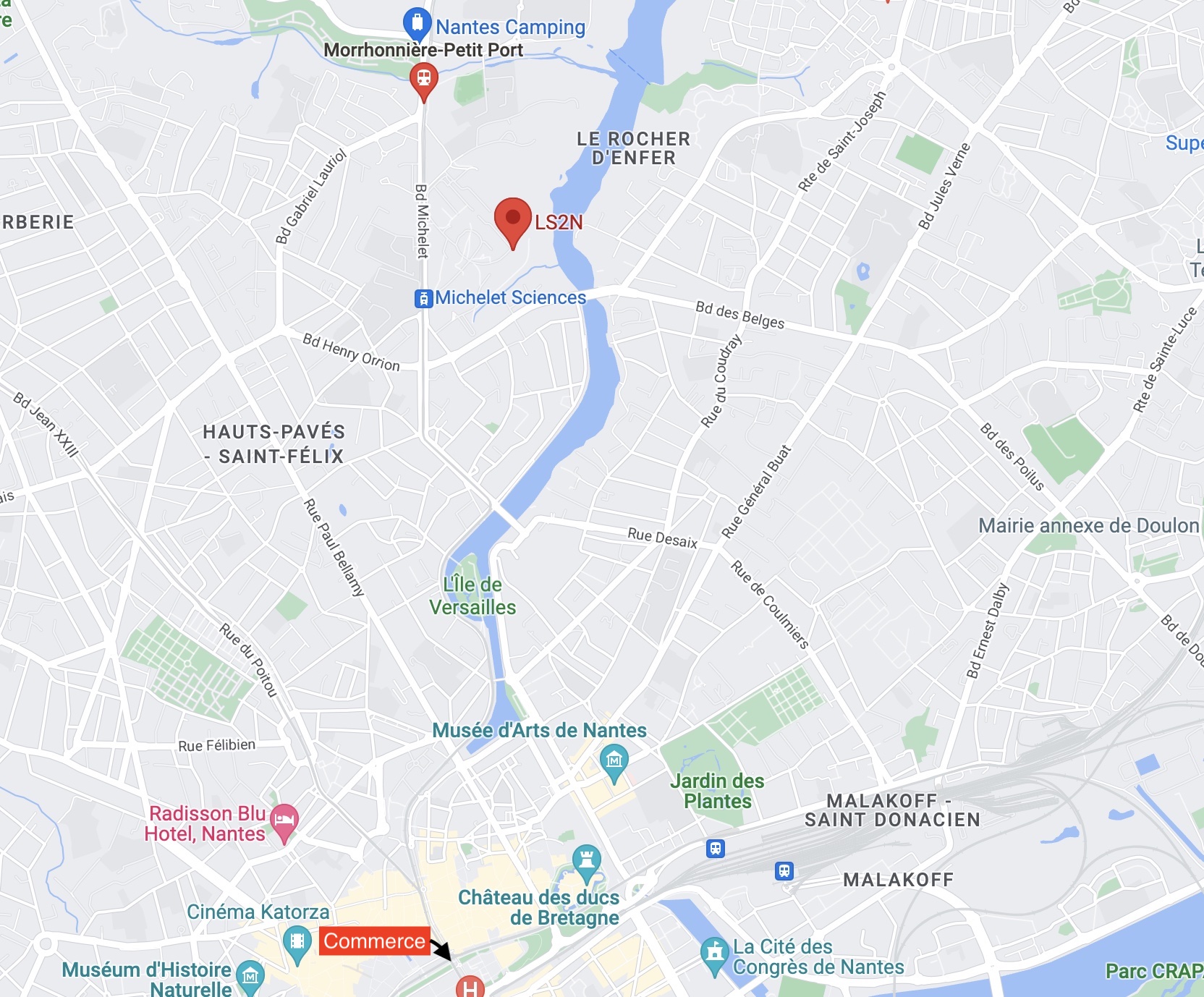 Accommodation
Nantes offers plenty of accommodation options (google maps link) in the center of the city starting around 50 euros/night.
Within walking distance of the venue, there is also the Camping du Petit-Port ("Nantes camping" on the map above), with bungalows available for rent.
Nantes 101
Airport shuttle: time table and map
Tan: public transportation in Nantes
Le voyage à Nantes : touristic information about the city.
Les tables de Nantes : where to eat or have a drink.
Social Event
On Wednesday June 22th afternoon, let's meet at the Machines de l'Île, on the Île de Nantes, to visit the Galerie and the Carrousel. Visits will start at 4PM and end at 6PM. Be there on time!
Then, take some time to stroll around the banks of the Loire river, make a stop at the Memorial de l'Abolition de l'Esclavage or have a drink at the Hangar à Bananes.
We will meet for dinner at 8PM at the restaurant Le 1 (5-10 min walk from the Machines de l'Île).